May 12-17, 2010 was our timeframe. The plan was to travel to all the major spots in Uruguay, in 5 days. On the list?
Punta del Diablo – Small hippie/surfer town. Far east. Nice beaches, friendly people.
Punta del Este – Tourist hot spot.
Montevideo – The country capital city. Population: 1.4m. Of interest? Capital city, and home of friend-of-a-friend graffiti artist.
Colonia – Landing port from Buenos Aires. Often used to renew one's 90 day traveling visa in Argentina.
And here was our basic plan:
Day 1 – Rent a car. Drive to Punta del Diablo.
Day 2 – Spend day in Punta del Diablo, in the evening drive to Punta del Este.
Day 3 – Spend day in Punta del Este, in the evening drive to Montevideo.
Day 4 – Spend day and evening in Montevideo.
Day 5 – Spend day driving to Colonia, return car, see Colonia. In the evening, ferry home. Sleep.
Day 0 – The Wake Up
Surprisingly, I slept the night before. Those who know me know that I don't sleep much at the best of times, so naturally when excited about a trip I go into anxiety mode and never sleep. I awoke, showered, packed the last few things into my bag and at 7:45am, Estibi and I packed ourselves into a taxi with bags on back, and headed towards the ferry terminal.
Day 1 – The long drive competition
We arrived in Uruguay with no troubles getting through security (it's a fairly normal thing for people to do day/weekend trips in Uruguay). First thing to tackle was food. Generally speaking the food in Uruguay parallels that of Argentina. Lots of pizza, beef, wine, and empanadas… what's that? Wine's not food? Poppycock! We sat down streetside to take in the scene. Estibi ordered some sort of meatbomb, and I had a ravioli with cream sauce. The food was alright, the highlight of the meal was watching a short man ride up and down the street slowly on his small motorcycle absolutely blasting directions to a party in town that evening. While an unorthodox approach to party marketing, it's a quite popular way to put word on the streets (sorry, can't help a nice pun) in Uruguay.
After eating we got right onto our next task which was to rent a car… Before long I was sat in our Charcoal coloured Volkswagen Golf (Gol, down here) and we were off to the races. Estibi was enamoured by the idea of driving so I took shotgun and we off we sped.
Within 15 minutes, Estibi had passed a truck on a double solid while merging onto the highway and we were pulled over, facing our first Uruguayian traffic ticket, for $1200 USD. The real beauty, or sad truth in a ticket that ridiculously over-priced is that no one is intended to ever have to pay it. $80 pesos ($20 CAD) later — in the pits of greed and political frailty — a family's meal was earned in the form of a simple hand to hand transaction.
The car rental agency had told us it would be a 6 hour drive, and at the time he didn't realize we meant to cross the entire country (I assume thinking no one would be that crazy) and since we hadn't realized he meant to the next closest town, we stuck on the highway as best we could (which meant constant exits and merges) and stayed true to our plan of making it all the way across. 9 hours later, around 1:15am I was behind the wheel, we were fucken lost with no idea where the fuck we were, and wherever it was was way the fuck away from where we wanted to be. I was hungry and grumpy, Estibi wanted to find somewhere to sleep and I wanted to continue on… but we were lost and so couldn't do either. We pulled into a gas station and asked a pump attendant:
where we were supposed to be, and…
where we actually were.
His answer was, less than ideal to say the least and the conversation that followed was unnerving to say the least, if not the oldest one in the book. Apparently, we were way the fuck off track and had a long ass ride back where we came from, "… or [wait for it] you can take the shortcut about 3 kilometres up the road, which is an 11km backroad." — Now, I'm not the most suspicious of men, but it's 1am. I know an obvious starting to a kidnap-murder-massacre horror movie when I hear one, and I was not interested would not have been interested had it not been for the situation at hand. Three kilometres down the road I made the left hand turn, and without a car in either direction to see my signal, we disappeared into unpaved darkness, silent to the rest of the World.
We were 5 kilometres into an ever-inclining dirt road, slowly working our way up from the sea's Coast back to the highway when it happened, Estibi shouted, "Oh my God! Look at the stars!" and when I did, we stopped the car and got out. I've seen a lot of beautiful skies in my day, growing up a bit further West than Vancouver in a small, light-pollution free Canadian town, but this sky had something about it that made it an everlasting memory. It may not have been only the stars, but the fact that I was freely traveling through Uruguay, on a backroad, day one of a five day vacation, staring at a wide open sky, absolutely littered with stars, living off my passions. I was swept up in how breathtaking all of it was… I guess I should mention that there was a meteor shower of sorts, so shooting stars were out in full effect. If there's one thing I can take from the experience it's that life's too short to spend doing things you don't like… stop all that nonsense.
When we finally did make it all the way out to Punta del Diablo, we had driven completely across Uruguay in a little over 13 hours. We tucked in (separate beds, don't get any ideas you filthy brats — I know what you were thinking) at the only open hotel — I slept like a baby.
Day 2 – Tube socks & flip flops
10:00AM — We awoke and walked our way down to Punta del Diablo, known to be a small surf town. We arrived in the low season (heading into Winter) and not a single place was open. Instead we walked around the beachfront, waded in the shallow parts — the water wasn't too cold — before long we were off to Punta del Esta after grabbing a quick 2L bottle of water. Punta del Diablo was great, but without anything open, and nobody around, it's really a quiet place. Definitely great for a morning but, there's a lot of the World to see!
From here I'll catch you up to date with photos taken this far… The first one is from the night drive out to Punta del Diablo, an hour or so before we got lost, and the rest of this set is the morning we spent there.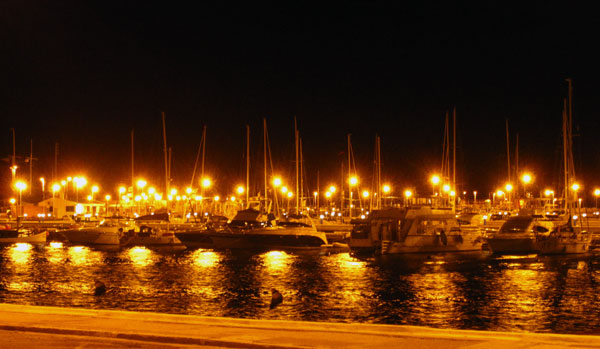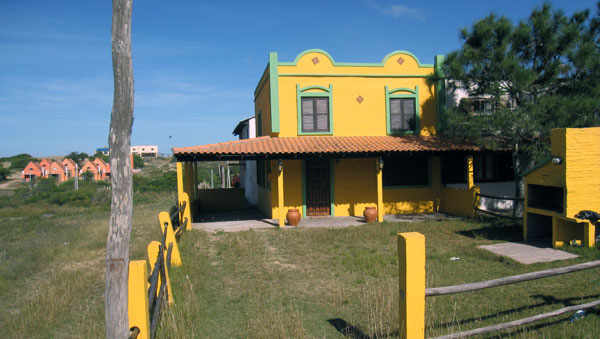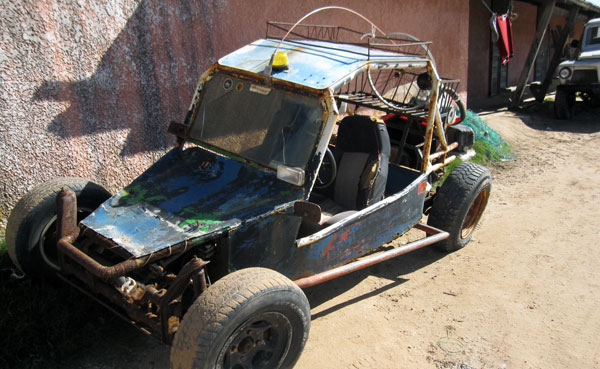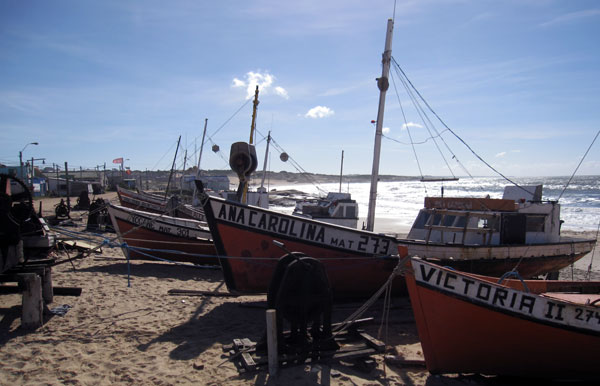 While I firmly believe in immersing oneself in local culture, I think it's necessary to at least see what the fuss is about in tourist locale. Relating to my first travel-trip to Indonesia, while my favourite moments were off the beaten path, some very memorable ones were right there along with tube socks jammed into flip-flops.
We arrived in Punta del Este in the early afternoon — a small but nice town where tourism is the name of the game. At one point I was contemplating filming one beach, then running across town (8 blocks) and showing the beach on the other side all in one camera take but the sun was on it's way down and so the idea was canned. The town is not very wide but quite long. Estibi wanted to visit the house of a hero of hers, so we parted ways for the day and I got some work done. It wasn't without visiting what I found one of the coolest art projects I've seen… Granted it's a little weathered, and there's plenty of exposed concrete.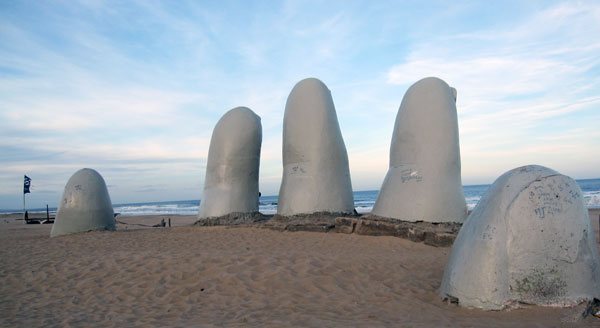 Day 3 – To purchase Aerosol
Of all the things to do in Uruguay, the one that excited me the most was the chance to meet up with a Spanish friend of a Venezuelan friend of mine, Javier. I don't really speak Spanish if we want to get down to it. I can make small talk, order food, get prices, and tell someone where to stick an indeterminate 'it' for when shit gets heated but communication is less than ideal, most certainly. The one language Javier and I both speak fluently is aerosol. Javier said while I was in Montevideo to call him because he wanted to go out painting and knew of a wall which would was fine to paint.
The trek to Montevideo was long, and at 7pm we got car-jammed in a storm of Uruguayan football fans, after a match. We didn't end up getting anything productive done; the highlight of the day was finding ourselves in a great hostel which showcased a eco-friendly cabin on the roof running completely off of Solar paneling. Okay, the stove ran on natural gas. The hostel had local made dulce de leche (which North American's call caramel, but prepared differently and has an admittedly different texture and taste), jams, marmalades, and fruit. I thought that was pretty cool, and felt like we made a good choice to stay there, truly supporting local business.
Day 4 – Rattle rattle, tsss, tssssss…..
I bought paint in the morning and in the afternoon met up with Javier and his friends. We spent the day hanging out and getting to know each other, telling stories and by night's end, around 9pm we had repainted a wall that had been burnt and tagged with swastika's.
This had been turning into a pretty fun trip! Again, I slept like a baby.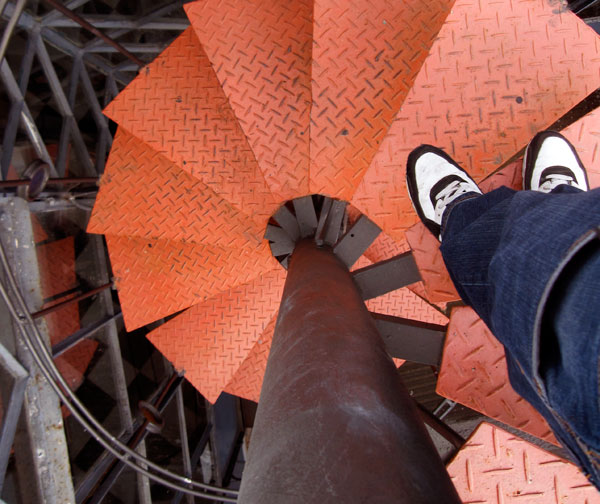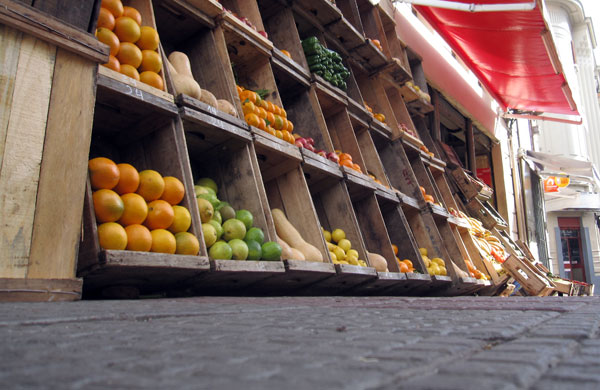 Day 5 – The show's over, folks
On our way back through to Buenos Aires we returned the car and walked around Colonia, taking photos. Most of the coolest photos of my trip were from here. A place I was really happy to have had a chance to explore. The cobbled streets were great, there was lots of greenery, good food and a really laid back atmosphere. I'm saving you details and will instead post a multitude of photos, first from Montevideo and starting with the car, sights in Colonia. I hope you've enjoyed this long winded, long overdue blog post. Thanks for making it all the way to the bottom. I've promised myself I'll keep them shorter herein.